Previous Essays:
Why we are doomed, Part 1: Human Nature
Why we are doomed, Part 2: Civilization
Ecological overshoot happens when a population exceeds the long-term carrying capacity of its environment. This has happened before in various places (e.g., Ireland, Easter Island) but has never occurred on a global level until now. In addition to the geography of this incident of overshoot being unique, the factor that has allowed for such a dramatic degree of overshoot (we are at around 350% carrying capacity) is unique (i.e., fossil fuels).
In order for overshoot to occur, you need:
a finite geographical region – it is much easier for overshoot to occur on an island or otherwise isolated region than it is for it to happen, for example, in one state of the continental US. For purposes of the current overshoot event, the Earth is an island.
1. a population that chooses to increase its population via means that are only temporarily effective (e.g., Irish Potato Famine) OR 2. to destroy the ecological capital of the area (e.g., Easter Island). In the current overshoot event, we have managed to do both.
A. Finite Geographical Region.
The Earth is a finite geographical area, and is isolated from other potential sources of resources. Due to the huge amount of energy that is required to move even small amounts of energy or matter to and from other planets and moons, and because worldwide stores of the type of resources required to perform these activities (i.e., fossil fuels) are in decline, it is unreasonable to think that migration to another planet/moon and/or stripping of the resources of another planet/moon will save us. In order to be worthwhile, a resource-gathering space mission would have to be able to refuel at the destination, and return with more energy onboard than the outbound flight required.
B. 1. Temporarily Effective Means of Population Increase.
In the Irish example, the people came to depend on a monoculture of potatoes for sufficient daily caloric intake, because other sources were not sufficient to support the population level they had achieved. (The Famine is actually much more complicated than this and I'm using it only as an illustration; for example, Ireland was not physically isolated. [
Wikipedia Article
]) Since a monoculture inevitably results in blight, this dependence on potatoes was a
temporary
solution. In our current overshoot, the culprit is fossil fuels. While there was nothing wrong with using fossil fuels for things like comfort and convenience, the mistake was the
Green Revolution
, which is when we started using fossil fuels to increase crop yields. Since then, we have essentially been
eating
fossil fuels, a temporary resource. The funny thing about increasing food supplies is that while the kind-hearted of the world hope it to be a means by which to eliminate hunger, it inevitably becomes a means by which the population is increased until the percent of those who are suffering is roughly equal to what it was before.
B. 2. Destruction of the Ecological Capital of the Area.
In the case of
Easter Island
, the island was deforested, in part to aid the erection of the moai (those stone statues). Deforestation is damage in and of itself, but it tends to kill off animals (due to loss of habitat) and result in soil erosion, which reduces crop yields. In our current overshoot, we have deforestation as well as severe pollution
on a global scale
. We have even gone so far as to change the very climate of the entire planet. Even the isolated communities that have not taken part in the modern industrial way of life are being impacted severely by the destruction that overshoot is creating. EDIT: A great deal of the destruction we are seeing is due to toxic (including nuclear) waste and other pollution.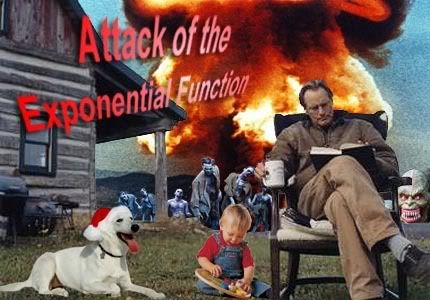 To look at overshoot from an even broader perspective, please see Albert Bartlett's lecture on
Arithmetic, Population and Energy
. In Bartlett's bacteria-in-a-jar illustration, he focuses on how much physical space is in the jar, but keep in mind that "space" is a symbolic shorthand for both resources (e.g., food) and waste (e.g., poop).
Bartlett's lecture hints at something which I find very fascinating, though it isn't discussed much in the context of overshoot or the
Olduvai Theory
[
The Olduvai Theory: Energy, Population, and Industrial Civilization
], which is essentially a prediction of the pattern of overshoot for this unique global scenario that we are experiencing now. You may be familiar with the concept of
substitution
in economics. Economists, who tend to be very optimistic, often say that overshoot or resource depletion
cannot
occur because one resource can be substituted for another
ad infinitum
. Of course, this is ridiculous. Substitution is never perfect and only so many resources can be substituted for a given resource. Often, substitution can only be achieved with the expenditure of
energy
(i.e., fossil fuels) so, in essence, multiple resources must be substituted to replace the one resource in decline. The fun result of all this is that
all valuable resources should be expected to decline simultaneously
on an historical or, certainly, geological time scale.
This resource decline simultaneity can be seen with oil in the past few years. Oil is in decline (since May of 2005; according to Oil Drum and IEA data [
reference
]), and so we've begun using natural gas and fresh water to substitute tar sands for oil, but natural gas peaked in February of 2005, and there is a serious problem with fresh water supplies (though this isn't quite as non-renewable as the other resources, there certainly isn't enough). We've also substituted corn for oil, again with much energy input required, and now it looks like there will be a serious corn shortage. So, in summary, the very concept that economists say will save us, substitution, makes things much, much worse.
We are looking at the very serious possibility that this unique global overshoot event will result in the near total depletion of all important resources necessary not just for human civilization, but for human life, and in addition that the ecological capital of the planet will be very severely damaged. If this occurs as I describe (and this is the current default course) then we can expect the death of all of the more complex organisms on the planet, including, probably, all humans.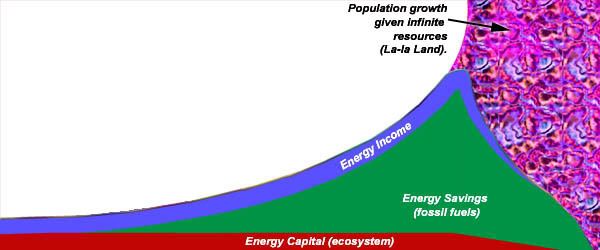 The above figure indicates energy income declining as energy capital declines because we are dependent on energy capital to convert energy income (sunlight) into a usable form.
I'm quite sure that if you challenge the dude who is frying up the last songbird using the remnants of the last tree, which he cut down earlier in the week, he'll look at you incredulously and explain that he's just trying to feed his family.
Anyway, you can start to see the pessimism inherent in the Olduvai Theory. In a world where most (if not all) of the trees have been cut down, and all the reachable fossil fuels burned, how can we expect to have anything resembling modern industrial society? How can we hope to repair our solar panels when they inevitably wear out (they are expected to have a 30 year lifespan, but produce less power as they age)? Or the brushes in the generators in our windmills (which may last two or three years)? I'm constantly encountering McGyver wannabe's (you know who you are) who claim that they can construct a solar panel using a used stick of chewing gun, a wire coat hanger and some Tupperware, but I don't buy it. For one thing, you'd need some
polysilicon
. Again, it is an issue of
substitution
.
Nevermind saving civilization... the human race will be lucky to get out of this alive.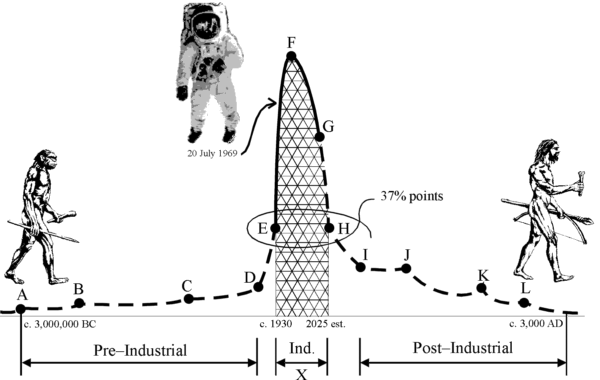 Current Mood:
doomed
Current Music: The Ninth Gate, end credits.